Martin Launches MAC 301 Wash™: LED-based MAC with Zoom
Posted: 4/24/2009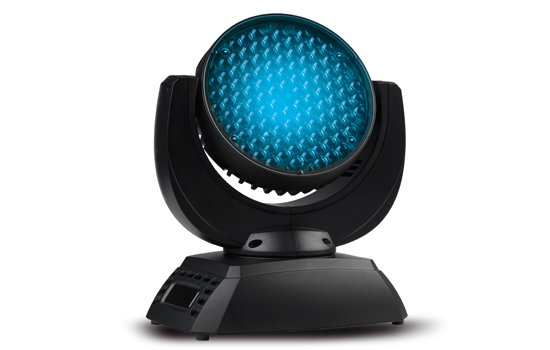 Products Involved
Further Information
The Martin MAC 301 Wash™ is an LED moving head washlight with a powerfully fast zoom and impressive zoom range. Useful in a variety of settings including
rental applications, television use and night-time venues, it is capable of producing a wide range of exceptional colors from rich saturated shades to uniform pastels through the entire zoom range.

LED-based MAC with zoom
The MAC 301 Wash's efficient and fast zoom provides beam angle control from 13 - 36° for more accurate and flexible design possibilities, and the fixture's outstanding RGB color mixing is maintained through the entire zoom range.

Efficient optics
The fixture's 108 high-power LEDs produce an extremely bright and well-defined beam. In fact, the MAC 301 Wash is the brightest LED moving head in its class. With LEDs arrayed in a high density design, a more even blending of colors is achieved. The highly efficient lens system makes for a punchy beam with great beam definition.

Outstanding color
A principal feature of the MAC 301 Wash is its excellent RGB color mixing system. The full spectrum system combines with the unique optical system to produce a wide range of vibrant saturated colors and subtle pastels. A range of mixed shades from cool to warm is also possible.

For increased color possibilities, the MAC 301 includes an electronic 7 color + white color wheel rotation effect with snap, blackout or dimmer fade at each color change.

Dynamic effects
The MAC 301 Wash is capable of smooth dimming from 0-100% with excellent color stability throughout the entire dimming range. Strobe effects such as pulse and random effects are also possible.

Fast, smooth movement
High-speed 430° pan and 300° tilt movement with fast acceleration and smooth movement is provided by powerful three-phase stepper motors. The MAC 301 Wash is surprisingly quiet which makes it suitable for noise-sensitive applications. And an automatic positioning correction system returns the fixture to its original position should it be accidentally knocked out of position.

Control
The MAC 301 Wash is industry standard DMX-512 controllable with conveniently fast stand-alone options. An illuminated graphics display provides for easy programming and easy-to-read fixture menus and messages. An auto-sensing power supply covers worldwide voltages and frequencies allowing the fixture to operate anywhere in the world.

Durable, user-friendly design
Made of durable diecast aluminum for the rigors of the rental market, the MAC 301 Wash is compact and lightweight enough to be used in a variety of applications. The fixture's head and yoke are easy to access for easy cleaning and maintenance as well.

The MAC 301 Wash offers all the benefits of LED technology like greater reliability, less maintenance and increased energy efficiency for a lower cost of ownership.
For more information contact your local Martin distributor or PR Coordinator Larry Beck at Martin Professional at:

Telephone: +1 719 686 0793,
E-mail: larry.beck@martin.dk